Do I visit schools?
Absolutely! I love to talk with students about writing nonfiction, my books, space, bats, rhinos, the underground railroad, and other stuff. My Author Visits page has details.
What book am I writing now?
I'm working on a book about the first ever robotic spacecraft to visit Pluto. It's called New Horizons and the book is Mission to Pluto.
Emi and the Rhino Scientist will always hold a very special place in my heart. Everyone misses you, Emi!
How did I get to be a writer?
I studied biology in college, not writing, and didn't know I liked writing until I was in my 20s and in the Peace Corps.
How long have I been a writer?
A long time! I started writing for a kids science magazine in 1991. You do the math!
What was my favorite school subject?
Science, especially biology.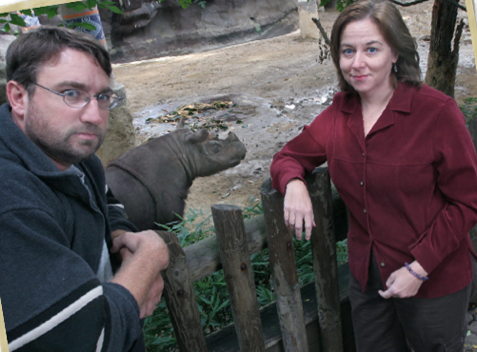 What's my full name?
Mary Kay Carson
Where do I live?
Cincinnati, Ohio
Do I have a family?
My husband, Tom Uhlman, is a photographer and videographer. We do some books together, as a team.
Do I have any pets?
Ruby, the beagle-mix wonder. She has her own Facebook page!