Download the catalog page.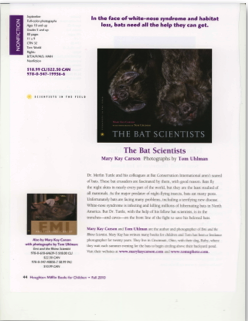 Reviews & Accolades
Junior Library Guild Selection
★"Whether describing the physics of echolocation or the present crisis of white-nose syndrome, Carson encourages readers to rethink stereotypes about creatures once scorned as flying vermin and shows how intricately their survival is tied to our own."
—Booklist ★starred review
"This impassioned book is rich with fascinating information and photographs and will make readers think about bats in a new way. With deft description and careful explanation, Carson profiles Tuttle and his fellow bat-lovers ... as they research these misunderstood creatures." —Horn Book
"A strong scientific look at a unique and often unloved mammal and the scientists who happily investigate them."
—School Library Journal
"Woven into particular researchers' stories is an enormous amount of information about bat biology and behavior." —Kirkus
Check out the Scientists in the Field website