Check out the Scientists in the Field website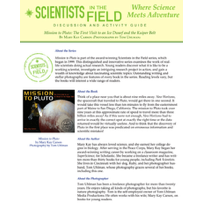 Reviews
"The author's enthusiasm shines through her clear, conversational narrative, and she quotes from personal interviews as well as press conferences and releases, extending the book's intimacy."
-Kirkus, starred review
"This comprehensive volume does a great job transmitting to readers the excitement and significance of the spacecraft's nine-year journey, and the wealth of information we are now learning about Pluto... This is a great STEM book."
"Well-organized chapters keep the chronological narration flowing smoothly, while sidebars and "Mission Brief" insets supply scientific explanations and data at need-to-know points in the text. Pluto enthusiasts will be fascinated by the recent data that amends many previous assumptions about Pluto... readers who want to get in the ground floor of new discoveries will also appreciate this introduction to exciting information forthcoming from the 2014 MU69 flyby."
—Bulletin
"Carson maintains a thrilling sense of immediacy, bolstered by Uhlman's on-the-scene photos—and, of course, New Horizon's dramatic images of Pluto and its fellow residents of the Kuiper belt."
—Publishers Weekly
"This enthusiastic, accessible look at both cutting-edge scientific discovery and the dynamic work behind the scenes will be an easy sell to spacemad kids..."
—Booklist
A Junior Library Guild selection